How To Choose A Prefect Neckline Of Wedding Dress For Cyber Monday
For brides, the most fun part of wedding is choosing a wedding dress, but the important part of choosing a wedding dress is neckline. Be inspired as you get to know the 12 most popular neckline types and find your perfect match.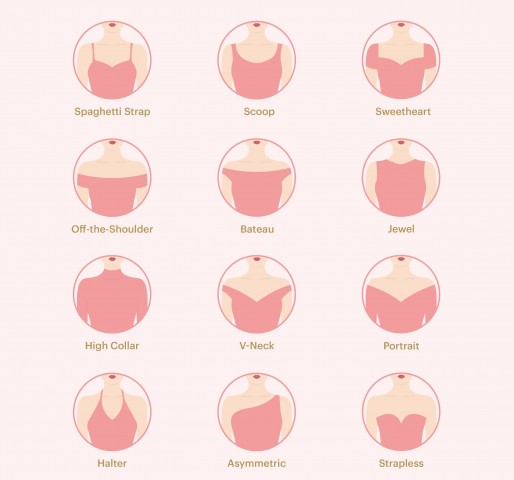 SWEETHEART: This particular neckline is becoming really popular lately. It's a lovely choice that will enhance or create the illusion of curves.
BATEAU: Also called the boat neckline, the bateau elongates the neck. It will look perfect paired with a low or high bun, and this style also adds a clean look to the dress.
HIGH COLLAR: This type of neckline is also elongating and is perfect for a more conservative bride. However, the high collar is not recommended for busty brides.
JEWEL: The jewel neckline also provides a clean and classic look. Befitting its name, this neckline style complements jewelry, especially ones around the neck.
SQUARE: The angles of this style draw the eyes up, and this neckline also pairs well with jewelry. Imagine this one with a statement necklace adorned with crystals. Gorgeous!
V-NECK: A stream lined, lengthening style, the V-neck is suitable for brides with a fuller chest. It draws more attention to the neck and provides a slimmer silhouette.
HALTER: The two words that perfectly describe the halter neck style are sexy and playful.
OFF-SHOULDER: Show casing the bare shoulders, this is a tasteful option. It also provides a good counter point to wider hips.
PORTRAIT: This neckline is a little tricky to define. It's somewhere between a bateau and an off-shoulder neckline.
ASYMMETRIC: The asymmetric neckline is unique in its own way. It is a sophisticated option for brides with a small to medium bust.
STRAPLESS: Flattering for a wide range of body types, this neckline is also a very popular choice. It's great for brides with curvier bodies as well.
SPAGHETTI STRAP: The thin straps flatter slender frames and narrow shoulders; this one exudes an elegant look.
Find the most suitable neckline, the prefect match wedding dress for your wedding.