Dress Guides on Choosing Prom Dresses From Bridelily
It's never too early to start dreaming about your prom dress especially when you want to stand apart for prom night! That being said, it is still difficult to make the final decision and know what really works best for you. Please don't worry, we're here to guide you through prom dresses 2020!
For the newest Prom dresses 2020 fashion, designs are modern, gorgeous and out of your imagination. You could browse Bridelily.com to complete your fashion look.
• Gorgeous Halter Sleeveless Sparkly Shiny Mermaid Prom Dresses
It's time to be bold and show off your figure in prom 2020! Go for a prom dress which is figure-hugging and quite bodycon, usually see with a thing high slit or long spaghetti strap prom dress mermaid.
• Amazing Sleeveless Halter Backless Lace Mermaid Prom Dresses
The orange mermaid prom dress has returned to become a top trend in 2020. For prom 2020, the ball gown has been given a modern makeover and includes many stylish design features such as sequins applique, sweetheart neckline, bolder colors which will make you feel like a modern princess.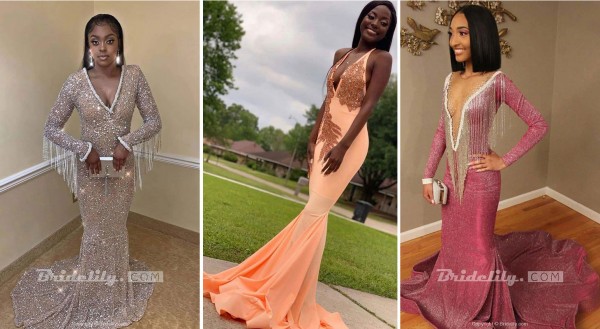 • Open Back Lace Satin Two Piece High Split Prom Dress
Backless prom dresses are a popular way to show off your skin without being too revealing. You can go for a backless prom dress which is fully open, or include strappy criss-cross details, cut-outs, and so on. This two piece long prom dresses cheap plus thigh high slits is a great way to show off just a glimpse of your legs or body figure.
• Sparkling Sequin Prom Dresses 2020
Again! Sequins dresses are still one of the hottest prom dresses trends 2020! These sparkling embellishments will be everywhere and in a wide range of colors in 2020. Opt for a timeless silver, rose gold or gold which can never go wrong, or choose royal green, navy blue, burgundy or even ombre to shine bright.